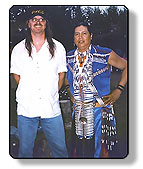 Name - Dan (StandingBear )
Born - Yes
Colour Eyes - Blue
Colour hair - Dark blond
Height - 193cm
Weight - 95kg
Hometown - Karlskrona, Sweden
Family - Yes. My two boys, real wild ones *S*
Interest - My kids, Artwork, music.
And I'm very interested in old history,
mostly about the old west and the Native American history. I´ve been drawing since I was just a little kid using water color, Indian ink and now even with my computor. I made this site just for fun so I could have a place to put up the graphics I make. And it is a great honor that so many wanna use the things I´ve made on their own webpages.

Yigaquu osaniyu adanvto adadoligi nigohilvi nasquv utloyasdi nihi
( May the Great Spirit's Blessings Always Be With You)